Key Alliance Consultancy Company
Key Alliance Consultancy Company WLL (KACC) commenced its operations in 2007 with its Head Quarters in the Kingdom of Bahrain. KACC has established itself as a trusted Management Consultancy & Technology services, Project Management Services, and Business Coaching company.
KACC offers systematic Strategic, Project Management and Training approaches for adapting and adopting continual improvement programs in all processes and enhance the business processes and human productivity in our clientele organizations.
KACC Business Coaching Division collaborates with worldwide, leading training institutions that are chosen for their specialty Programmes and those that maintains a high standard in all delivery aspects.
KACC Business Coaching Division operates through its statutory locally licensed Authorized Training Partners or Universities globally.
KACC has collaboration with Leading International Body of Knowledge Association Standards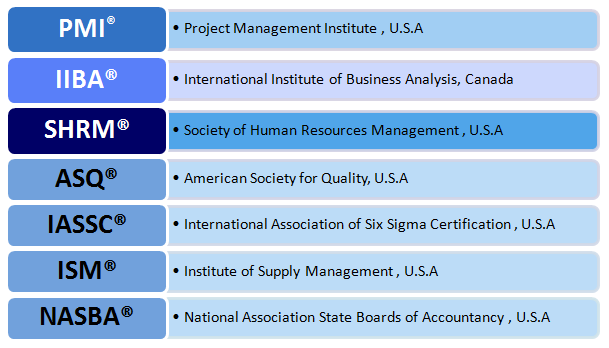 Project Management Institute – PMI® – Visit site
PMI® is the leading global association for the project management profession. Since its founding in 1969, PMI® has been at the forefront of working with business to create project management standards and techniques that work. PMI®'s Family of Credentials PMI® administers a globally recognized professional credential program that promotes professional development and maintains an ISO 9001 certification in Quality Management Systems. PMI®'s leadership as the global certification body for project management was further advanced in 2006 when the Project Management Professional (PMP)® credential process received ISO 17024 accreditation.
PMI® now offers specific certification for practitioners with different levels of experience.
International Institute of Business Analysis – IIBA® – Visit site
(IIBA)® is an independent non-profit professional association serving the growing field of business analysis.
IIBA® was established in 2003 as a Canadian Corporation and has become the leading association for business analysis around the globe. The IIBA® develops and maintains standards for the practice of business analysis and for the certification of business analysis practitioners. It has defined a body of knowledge for the business analysis field and provides a forum for the sharing of knowledge. It has identified the required skills and competencies of business analysts and has defined training and professional development standards for the business analysis community.
IIBA® Certifications:
International Association for Six Sigma Certification (IASSC)® Visit Site
IASSC®) is a Professional Association dedicated to growing and enhancing the standards within the Lean Six Sigma Community. IASSC® is the only independent third-party certification body within the Lean Six Sigma Industry that does not provide training, mentoring and coaching or consulting services. IASSC® exclusively facilitates and delivers centralized universal Lean Six Sigma Certification Standards testing and organizational Accreditation's.
IASSC® Certifications:
American Society for Quality (ASQ)® – Visit site
ASQ®) is the world's leading authority on quality. With more than 100,000 individual and organizational members, this professional association advances learning, quality improvement, and knowledge exchange to improve business results, and to create better work places and communities worldwide.As champion of the quality movement, ASQ® offers technologies, concepts,tools, and training to quality professionals, quality practitioners, and everyday consumers, encouraging all to Make Good Great®.
To know the list Certification Exams offered by ASQ®, click here.
Society of Human Resources Management (SHRM®) – Visit site
Founded in 1948, the SHRM® is the world's largest HR membership organization devoted to human resource management. Representing more than 275,000 members in over 160 countries, the society is the leading provider of resources to serve the needs of HR professionals and advance the professional practice of human resource management. SHRM® has more than 575 affiliated chapters within the United States and subsidiary offices in China, India and United Arab Emirates.
To know the list of programs offered by SHRM®, click here.
Go to: